Alpine Ski Club x Squire John's
Alpine is proud to partner with longtime local retailer Squire John's to provide convenient, onsite equipment service to our members and guests. Located at the base of the hill next to the clubhouse, the team at Squire John's is available for all your rental needs, demo equipment, tuning and service, as well as selected retail sales.
Alpine members are invited to join Squire John's VIP Program, which provides a fast and convenient way to shop all of their locations by purchasing on account while enjoying additional benefits of discounts and rewards.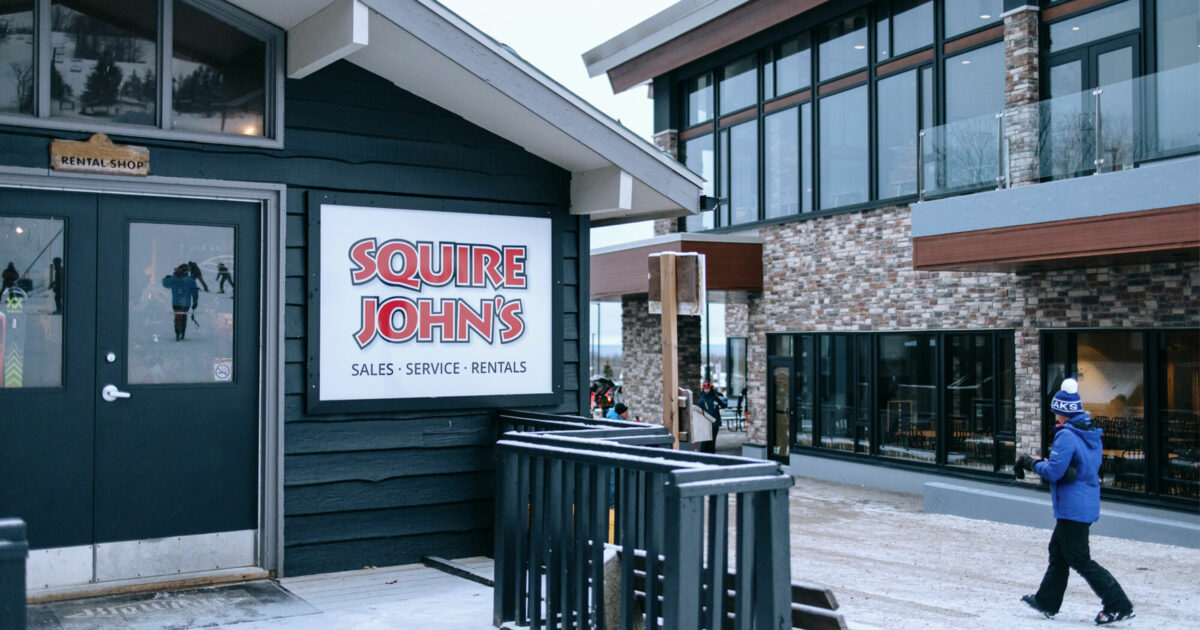 Book Your Rental Equipment
Members & Guests
Members and guests requiring rentals are encouraged to visit Squire John's in person to speak with the team and arrange their required equipment.
If you're looking for rentals on a peak day at the club (ex: Family Day, Men's or Ladies' Day, etc.), we encourage you to reserve your equipment in advance by calling the shop directly at 705-445-8761 or Leslie Thompson at 519-599-1228.
Midweek Groups
For larger, visiting groups, we ask that you reserve your rentals in advance using the following steps:
Log on to the rental website at squirejohns.com/rentals

In Section 3 – New Rental for this Event, choose your location and event date.
Select your group from the list (If it does not appear on the list, check with your group coordinator to make sure they have contacted Squire John's to open the website).
Fill in all the required information and SUBMIT your request. Note: You need to use a new password for each event you attend.
Save the confirmation email so you have your username (email address) and password. If you need to edit or delete your rental request, go to squirejohns.com/rentals, Section 1 and use your username and password to access your information.
If you are booking rentals for more than one person and the charge will be on the same credit card, select the "Add another rental" button after entering the details of the previous rental.
Please note – Additions, changes and deletions must be done at least 2 days before your event. If your event is on a Friday, all requests need to be submitted by the end of day Tuesday.
Cancellation Policy
Individual cancellations can be deleted by the group coordinator or participant on the website until the site locks 2 days before the event. Cancellations after that time may be made by contacting Leslie Thompson (519-599-1228).
Cancellations must be confirmed – leaving a voice message is NOT considered confirmed. Please cancel as soon as you know you will not be requiring equipment as last minute cancellations cannot always be confirmed. 10:00 a.m. the business day before an event is the absolute last possible time to cancel (if Leslie is available). Unless cancelled, the full cost of the reservation will be charged.